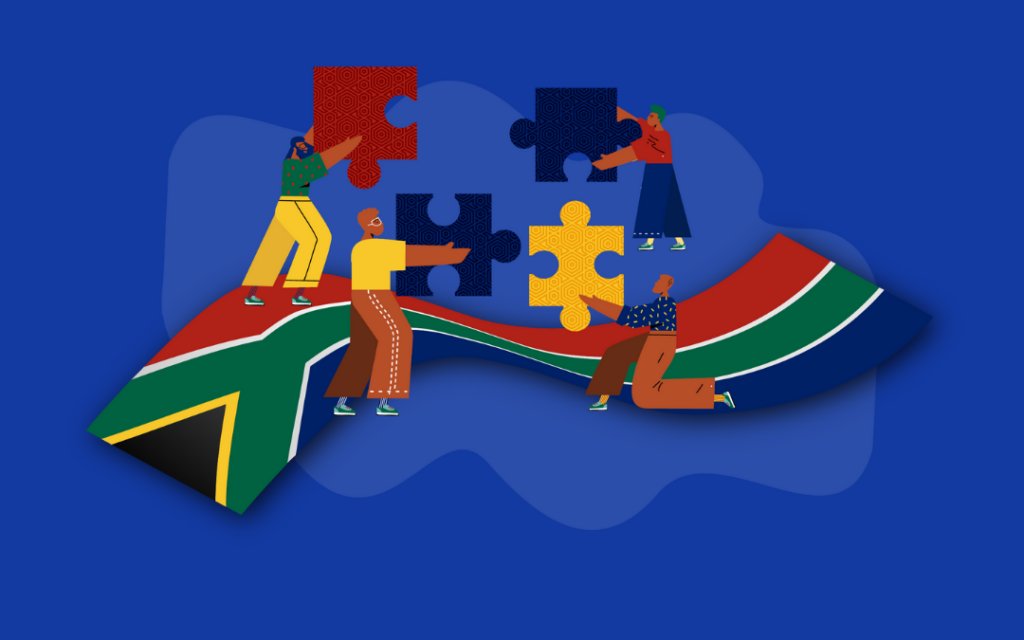 Much has been said about the role entrepreneurship can play in tackling the growing crisis of unemployment in South Africa, with the rate sitting at 34.9% – the highest unemployment rate in the world.
To complement the work that Viridian and the UK-South Africa Tech Hub does within the entrepreneur support organisation community via the Launch League initiative, we looked for a way to bring a range of ecosystem members together to explore, at length, what "Building an Entrepreneurial South Africa" looks like.

This saw us host our first ever UnConference, a participant-led event that enabled the community to co-create the agenda, lead sessions, and contribute meaningfully to this much needed conversation.
Taking place on the 16th of February, the virtual gathering saw close to 70 participants engage in a diverse range of topics – showing the scope and depth of the theme at hand.
So, what did we end up talking about? And what did these conversations reveal about the work being done by hubs and skills organisations to empower SA's citizens for economic growth? Below is a roundup of some of the key takeaways from the 9 sessions held at the UnConference:

1. We need to face the historical trauma that exists in South African communities so that we can heal.

Tony Elvin, who is the founder of Cape Town-based hub, iKhaya le Langa, led a discussion titled "Intergenerational Trauma" where he shared about his experience of overcoming trauma in his life and how that now informs his work in Langa. He went deeper into the topic by proposing that central to healing trauma is tapping into the power of black consciousness to have historically disadvantaged communities believe in themselves again.

He also shared his experience of running his hub, which focuses on enabling the environment and enabling individuals. "There are no jobs in the township but there's lots of work to be done," he said. He further elaborated by stating the importance of hubs and the community to think of creative ways to better our communities while creating meaningful jobs in townships. 
2. About 62% of South Africans don't believe they have what it takes to start and run a business. We need to change that.

While not every person in South Africa needs to be an entrepreneur, this lack of self confidence points to a deeper problem. Dr Ignatius Odongo led a session titled "Youth Entrepreneurial Competencies" which explored how to build and capacitate youth to unlock their latent talents. His discussion with other members of the community displayed the importance of looking at issues in the context they exist in. "Most youth are coming from disadvantaged backgrounds, so we need to build self efficacy – to rebuild hope, before we can even talk about entrepreneurship," he said. "From there, we can tailor our programmes and contextualise support and mentorship to meet young people where they are."

The consensus in the room concluded that building competency in young people is a gradual process that involves more than one bootcamp or incubation programme. It's about helping young people discover what they are good at, reinforce it, and help ignite in them the belief that they have what it takes to chart their own paths.
3. A thriving township economy is vital to SA's economic revival.

Dominique Adonis, of The Daily Grind Hub in Kraaifontein, Cape Town chaired a breakout room titled " Closing the circle". Her discussion highlighted the importance of supporting entrepreneurs to understand their local market, so that they can design and grow localised solutions – a discussion that's incredibly important with the informal or township economy contributing an estimated 6% to South Africa's GDP.
Jonathan Naidoo from the SmartXhange, echoed the same sentiment. "Don't try to formalise the informal economy but rather equip entrepreneurs to understand, harness and scale using informal channels and strategies," he said.

4. Collaboration and contextualisation should be at the heart of what we do.

The common thread around many of the nine sessions we had that day was the growing importance of collaboration across the ecosystem. One session titled "Capacity building strategies for youth social enterprises" reframed the word "competitor" where session lead Lebone Nkhumeleni posed: "what could the ecosystem look like if we thought of partnering with people we would normally deem as competitors?"

Another breakout session highlighted the importance of building contextualised solutions for the various environments that entrepreneur support and skills development organisations exist in. Willem Gous of The Human Entrepreneur posed a powerful thought to the group in this session: "We are teaching people Shakespeare, when we should be giving them a pen to write their own story."

A way forward
The above is merely a snapshot of the dynamic conversations that took place. From learning about how young people can tap into the gig economy and use social media to create their own opportunities, to looking at ways that micro entrepreneurs can be empowered – every minute of the four hour session was jam packed with thought provoking questions, contemplations, and answers.

What these conversations ultimately point to is clear: Building a country we can all be proud of calls for a multi-pronged, collaborative and localised approach. It will not be easy, but as famed author and anthropologist Margaret Mead said: "Never doubt that a small group of thoughtful, committed citizens can change the world; indeed, it's the only thing that ever has."